Gorilla cradles her brand new bundle of joy and expresses her affection by peppering his face with soft kisses
June 24, 2022
635

2 minutes read
Critically endangered western lowland gorilla, 15-year-old female named Calaya gave birth to her first baby at the Smithsonian Zoo that day.
Despite the fact that Moke, this was the name given to the newborn (translates as "light"), was her very first baby, Calaya hit the records by showing her motherly instincts to the world.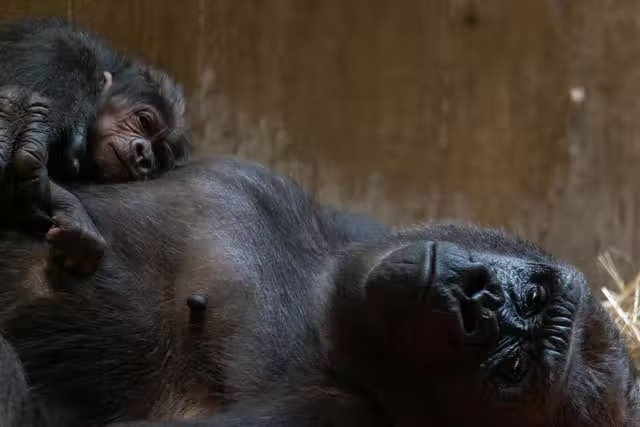 She started kissing her baby and expressing her affection to the baby right after the birth. She even cleans the face of Moke kissing him before and after the procedure. Not only Calaya was showing her feelings for the baby, but her birth was also watched by her husband, a 26-year-old gorilla named Baraka, along with some gorilla pals. Baraka was staying at a distance watching his wife giving birth to their very first son. Despite the 5 hour labor, the baby was born healthy and quite strong.
The zoo staff was watching Calaya groom and care for her newborn, as she was showing fairly confident mothering skills. The keepers have later told that they were "preparing" Calaya for her motherhood by showing photos of mother gorillas, giving her a gorilla toy, as well as other important parental behaviors.
They have even prepared Mandara, an older female gorilla "an experienced mother of six," to take over as a foster mother in case Calaya feels not confident with Moke. In the past, Mandara fostered Baraka, so she knew how to raise strong babies. Still, Calaya shows as a very loving mother to Moke and the Zoo staff is confident that Moke will continue his healthy trajectory onwards.
Watch this touching moment in the video below: