Cop saves donkey from busy highway, drives it safety in patrol car
June 6, 2022
197

2 minutes read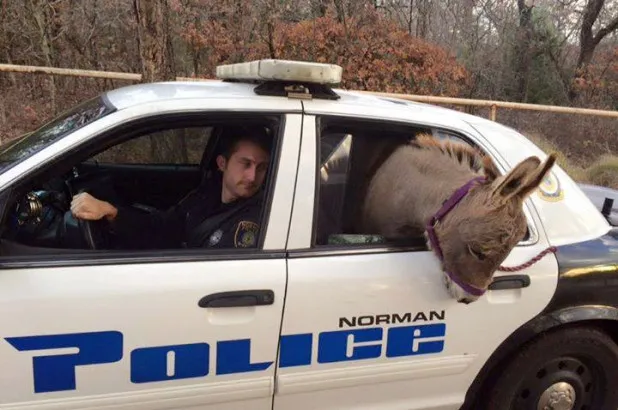 The lady from Norman, Oklahoma was on her way to work, when noticed something not ordinary. A terrified donkey was winding along the road. The person's name was Robin Strader. She ran out of the vehicle and rushed to help the scared animal.
Right away, the Norman Police Department's officer Kyle Canaan, came to the place. For the moment ,in some way, Robin was able to get the scared creature off the road. At first, the officer wasn't sure how to cope-with that unusual situation, but soon they solved the problem. The woman offered to take home the donkey, they named Squishy. But there wasn't a proper transportation vehicle and Canaan decides to help and take Squishy to the necessary point. The donkey didn't complain.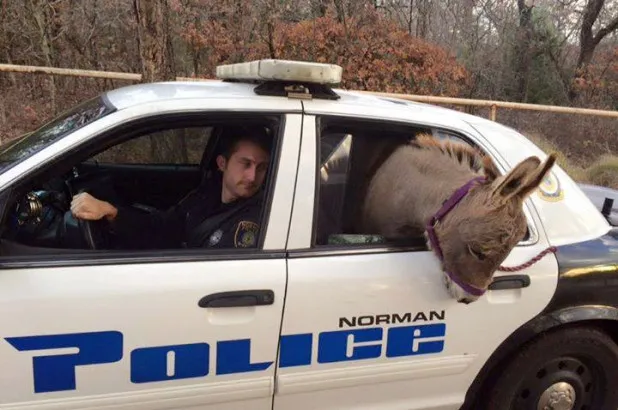 The City of Norman, OK Police Department wrote on Facebook about the incident, telling that their officers were always facing unforeseen difficulties. He also told about the morning, that Kyle Canaan got a call about donkey meandering in the 8100 block of 120th Avenue NE. For providing safety, he decided to take the scared one to a place that was not far away. It was abnormal situation, because not everyday a donkey could appear in the backseat of a police car.
As were told , donkey wasn't bothered at all , he was sitting in the back of the patrol car and patiently waiting. Either Canaan or Squishy had a lot of fun on their way except for the thing, that donkey used the police car as the bathroom. About this Canaan told KFOR.
"I mean, I must have got it right after breakfast, because there was a lot."
Squishy safely reached to Robin's place, who showed willingness to adopt the scared creature.